New results from Roy Morgan's mortgage stress data show that in the three months to April 2017, 16.8% or 666,000 mortgage holders can be considered to be 'at risk' or facing some degree of stress over their repayments. This compares favourably with 18.4% or 744,000
mortgage holders 12 months ago.
These are the latest findings from Roy Morgan's Single Source survey of 50,000+ people pa, which includes more than 10,000 owner occupied mortgage holders.

Mortgage stress is much higher among the lower income groups (Under $60kpa) where it currently reaches 85.3% for those considered 'at risk' and 65% for 'extremely at risk'.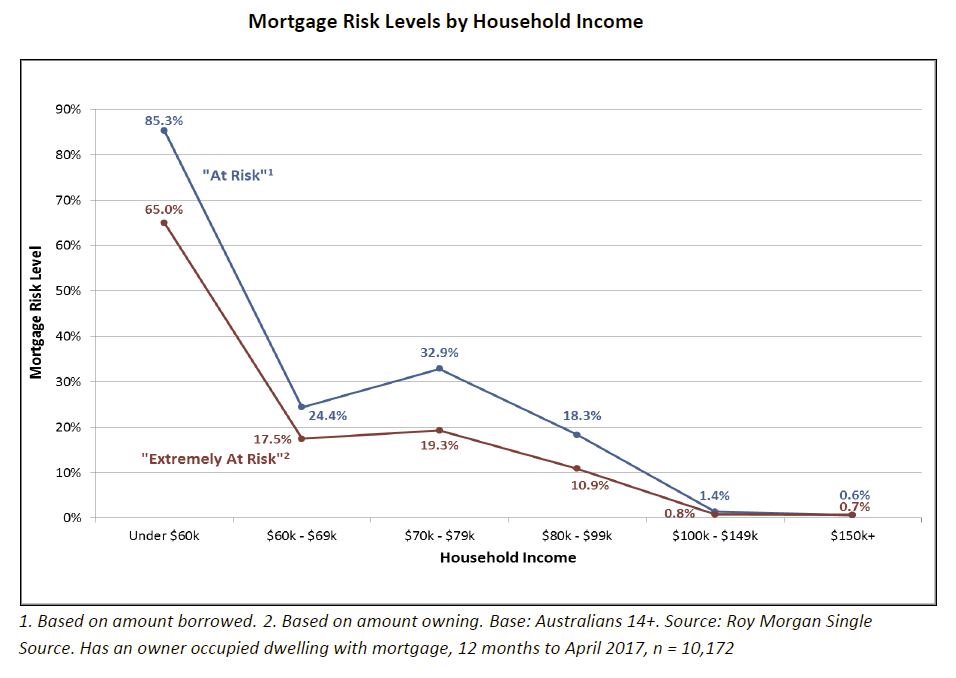 Mortgage stress is based on the ability of home borrowers to meet the repayment guidelines currently provided by the major banks. The level of mortgage holders being currently considered 'at risk' is based on their ability to meet repayments on the original amount borrowed. This is currently 16.8%, which is well below the average over the last decade.
DFA comments – interesting findings, presumably looking at owner occupied mortgages? The basis of assessment is different. Also, current repayment guidelines are in our opinion too generous, given current income growth. We think underwriting standards need to be tighter, judging by overall household cash flow, which have been tracking in our mortgage stress analysis.
Finally, whether 666,000 households from Roy Morgan, or 794,000 from DFA, are both big numbers!