The latest data from the ABS shows that income growth remains in the doldrums, putting more pressure on households who are experiencing rising costs (including mortgages), as our Household Finance Confidence Index shows. Given where inflation sits (1.9% on the official figures, but understated we think), many continue to go backwards. This also kills the Treasury budget assumptions. We do not see any reversal of this trend, despite recent positive business lending.
The seasonally adjusted Wage Price Index (WPI) rose 0.5 per cent in June quarter 2017 and 1.9 per cent over the year, according to figures released today by the Australian Bureau of Statistics (ABS).

The WPI, seasonally adjusted, has recorded quarterly wages growth in the range of 0.4 to 0.6 per cent for the last 12 quarters (from September quarter 2014).

ABS Chief Economist Bruce Hockman noted: "Low wages growth continued in the June quarter 2017, with annual wages growth continuing to hover around 2 per cent. This low wages growth reflects, in part, ongoing spare capacity in the labour market. Underemployment, in particular, is an indicator of labour market spare capacity and a key contributor to ongoing low wages growth."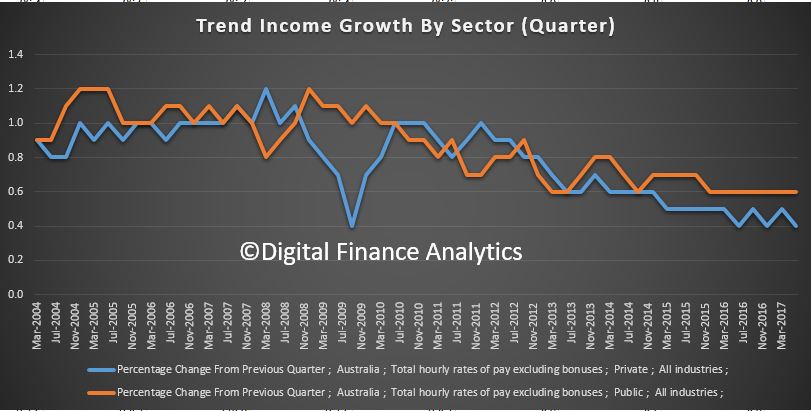 The annual trend is clear to see. Public servants are doing a little better than the private sector.
Seasonally adjusted, private sector wages rose 1.8 per cent and public sector wages grew 2.4 per cent through the year to June quarter 2017.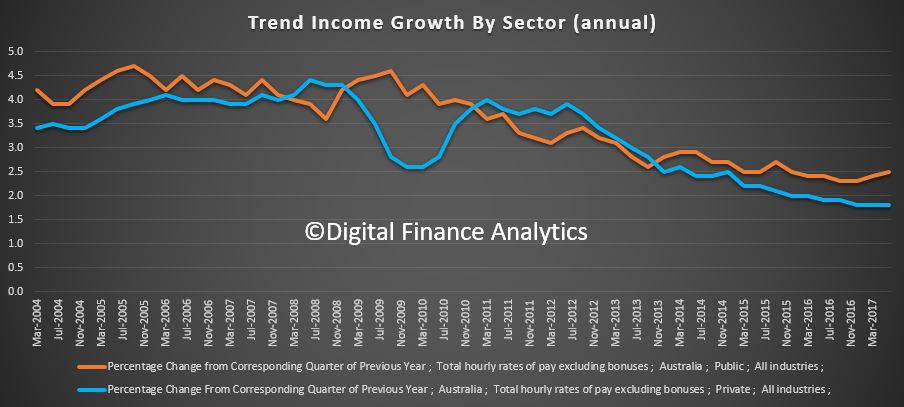 In original terms, through the year wage growth to the June quarter 2017 ranged from 1.1 per cent for the Mining industry to 2.6 per cent for Health care and social assistance industries.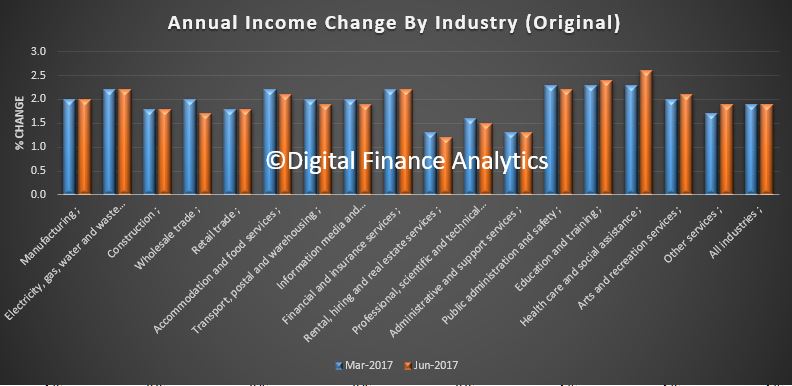 Western Australia recorded the lowest through the year wage growth of 1.4 per cent and South Australia and Northern Territory the highest of 2.1 per cent.