New research by the Swinburne Institute for Social Research, shows the wealth effect of holding property, and the risks in retirement of those unable to get on the ladder. In fact, a comfortable retirement is unlikely for those renting, because they are excluded from capital growth, which makes up such a large element of household wealth.
They also show that households who invested in property in 2013 were far more highly leveraged than those from 2003, reflecting changes in tax concessions, and growing household debt.
Essentially, households have little choice but to join the property owning sector, once again highlighting why people are so desperate to join the band wagon; and the risks embedded should home prices revert to more normal level. As we said in a recent blog – all most everyone wins from ever high home prices, until the music stops.
The report examined the wealth of people aged 40 to 64 years and recent retirees.

It evaluated the degree to which households can accumulate wealth for retirement, focusing on housing, and the impact of relationships and divorce or separation.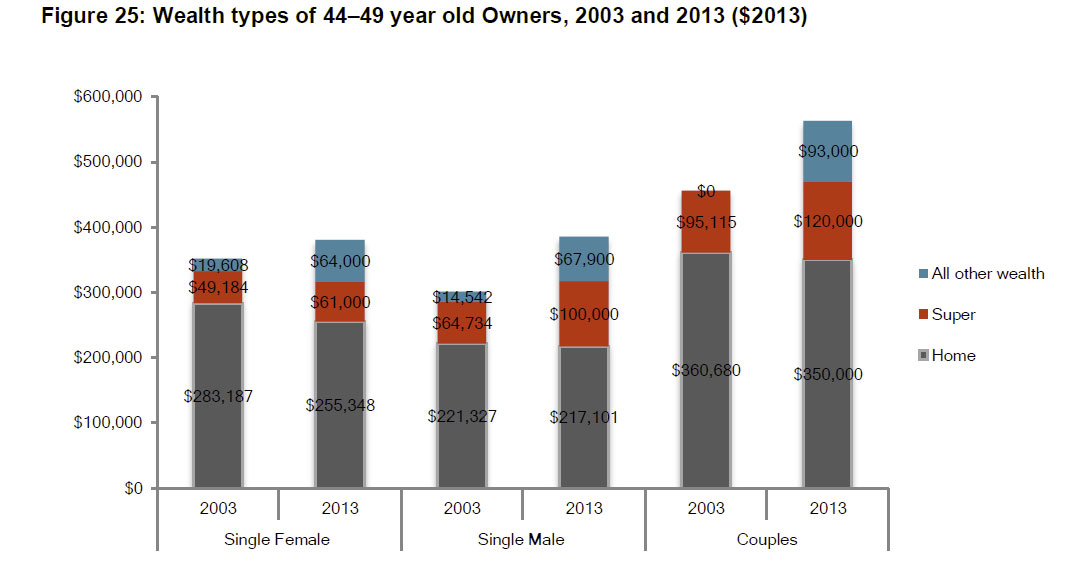 Lead researcher Dr Andrea Sharam says lone person and couple-only renters over 45 years of age tend to have little wealth.

"There are currently 425,000 people in lone person or couple households over 50 renting in Australia with this number expected to rise to 600,000 by 2030 and again to 830,000 by 2050.

"This number of impoverished older people equates to a huge increase in demand for housing assistance."

Men and women are revealed to have different pathways into rental poverty in old age. For women the cost of care and the gender wage gap negatively affects them, while for men low educational achievement, consequential limited employment prospects and disability are factors.

"Relationship breakdown typically adversely impacts wealth with one if not both former partners often falling out of home ownership and not later recovering home ownership.

"Single mothers with young children are particularly vulnerable," Dr Sharam says.

Policy recommendations

The report recommends a number of policy changes, including substantial community investment in social housing, and new affordable housing tenures aimed at midlife households who may not be eligible for social housing but also cannot afford full market house pricing.

"Social housing eligibility should be widened to order to cater for a broader range of incomes," Dr Sharam says.

This would help prevent the loss of wealth associated with being a private renter and minimise the danger of retirees exhausting their resources before end of life.

The report also recommends better rights for renters, including:

security of tenure in residential tenancies legislation,
institutional investment in rental housing,
age-specific rental supplements, and
a National Rental Affordability Scheme (NRAS) type program targeted to age pensioners.

To read the full report see, Security in Retirement: The impact of housing and key critical life events.