The number of dwellings approved rose 0.7 per cent in July 2017, in trend terms, and has risen for three months, according to data released by the Australian Bureau of Statistics (ABS) today.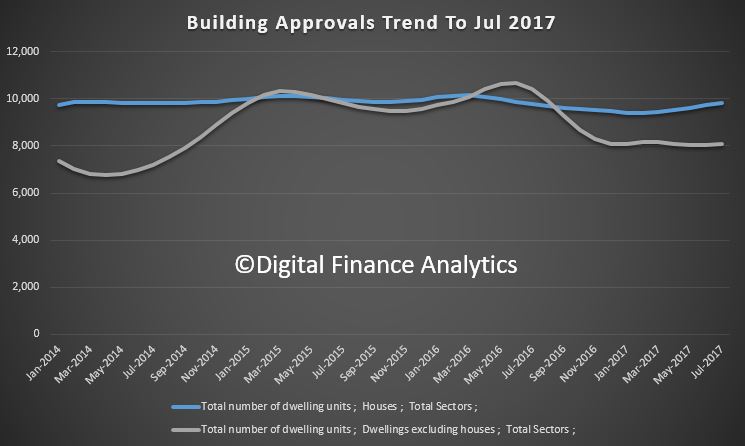 Dwelling approvals increased in July in the Australian Capital Territory (8.8 per cent), Victoria (1.0 per cent), Western Australia (0.8 per cent), South Australia (0.8 per cent), New South Wales (0.4 per cent) and Queensland (0.2 per cent), but decreased in the Northern Territory (9.7 per cent) and Tasmania (1.0 per cent) in trend terms.

In trend terms, approvals for private sector houses rose 1.0 per cent in July. Private sector house approvals rose in Queensland (1.5 per cent), Victoria (1.1 per cent), South Australia (0.9 per cent) and New South Wales (0.8 per cent), but fell in Western Australia (0.1 per cent).

In seasonally adjusted terms, dwelling approvals decreased by 1.7 per cent in July, driven by a fall in private dwellings excluding houses (6.7 per cent), while private house approvals were flat.

The value of total building approved rose 1.3 per cent in July, in trend terms, and has risen for six months. The value of non-residential building rose 3.1 per cent while residential building was flat.

"The value of non-residential building approvals have risen for the past six months, in trend terms, reaching a record high in July 2017," said Daniel Rossi, Director of Construction Statistics at the ABS.

"The strength in non-residential building has been driven by approvals in New South Wales and Victoria, where a number of office and education buildings have been approved in recent months."
Commenting on the figures, the HIA said:
"Today's building approval figures show that the detached house building sector has plateaued at a high level while the building of multi-unit projects is sliding, was confirmed by ABS data today," stated Tim Reardon, HIA's Principal Economist.

The ABS released July Building Approval data today which shows that the paths of detached and multiunit residential building continue to diverge as the industry's contribution to GDP is set to fall.

"Multi-unit sector approvals fell by 3.3 per cent to be 27.5 per cent lower than twelve months ago while detached house building approvals remained constant over the year.

"Detached home approvals were 2.4 per cent better in July this year than compared with July 2016.

"The slowdown in the multi-unit sector is also showing up in the amount of work done on all residential sites has fallen by 3.2 per cent in the first half of this year, based on the construction data also released by ABS today.

"This slowdown in on-site activity is likely to see residential building have a negative impact on GDP growth for the June quarter.

"There is also significant variation in residential building conditions around the country.

"Compared with a year ago multi-unit approvals in July were down by 20 per cent or more in all the eastern states while movements in detached home approvals included a 9.6 per cent increase in South Australia to a fall of 8.7 per cent in Western Australia.

"The significant variation in industry conditions between the multi-unit sector and detached homes and around the states is likely to continue for some time consistent with HIA's latest forecasts", Mr Reardon concluded.