The ABS reported their monthly employment data today, showing that trend full-time employment increased for the 10th straight month in July 2017 but both the trend unemployment rate in Australia was steady at 5.6 per cent in July 2017, and the labour force participation rate remained at 65.0 per cent.
Let's be clear 5.6% hardly a great result as The New Daily highlights, bearing in mind the unemployment rate in the US, is 4.3%, 4.5% in the UK, 3.9% in Germany and 2.8% in Japan.  Note also that wages are depressed in these countries too. We should not get deflected by the rising number of jobs, which is where the Government would like us to look.  We should be doing better. This does not reflect "full employment".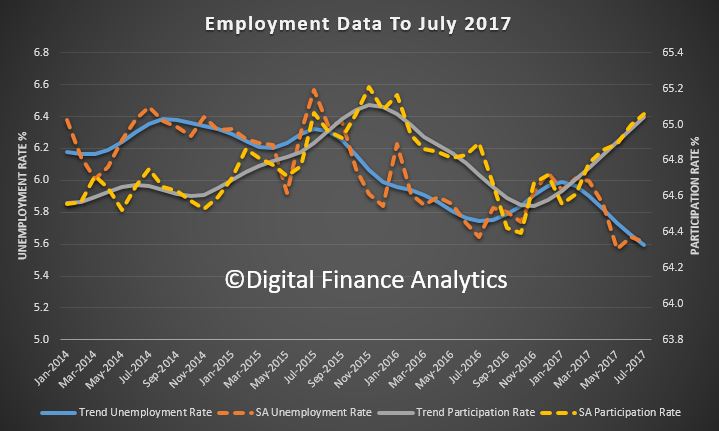 Full-time employment grew by a further 29,000 persons, while part-time employment decreased by 3,000 persons, underpinning a total increase in employment of 26,000 persons. The trend monthly hours worked increased by 5.2 million hours (0.3 per cent) to 1,696.4 million hours in July 2017.

Over the past year, trend employment increased by 259,000 persons (or 2.2 per cent), which is above the average year-on-year growth over the past 20 years (1.9 per cent).

The rate of employment growth (2.2 per cent) was greater than the growth in the population aged 15 years and over (1.6 per cent), which was reflected in an increase in the employment to population ratio (which is a measure of how employed the population is). This ratio increased by 0.4 percentage points since July 2016, up to 61.4 per cent, the highest it has been since April 2013.

"Full-time employment has now increased by around 220,000 persons since September 2016, and makes up the majority of the 250,000 person increase in employment over the period," Chief Economist for the ABS, Bruce Hockman, said.

Over the past year the three states and territories with the strongest growth in employment were Tasmania (4.0 per cent), Victoria (3.1 per cent) and Queensland (2.7 per cent).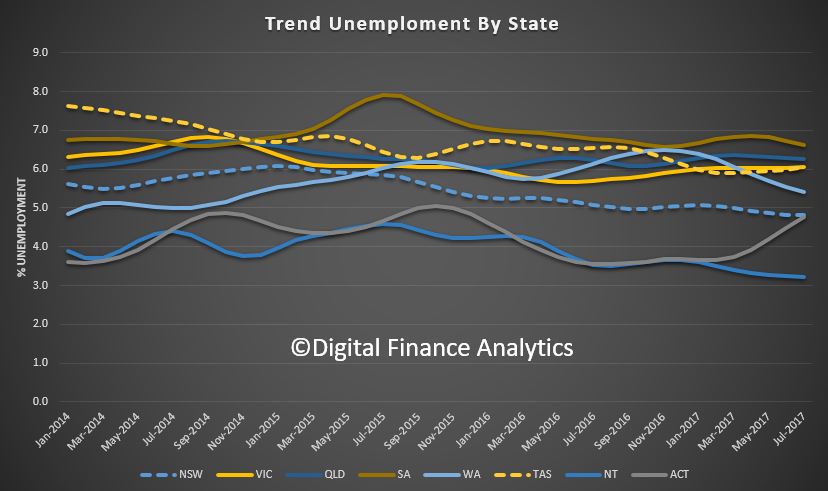 Trend series smooth the more volatile seasonally adjusted estimates and provide the best measure of the underlying behaviour of the labour market.

The seasonally adjusted number of persons employed increased by 28,000 in July 2017. The seasonally adjusted unemployment rate was 5.6 per cent and the labour force participation rate was 65.1 per cent.