The seasonally adjusted Wage Price Index (WPI) rose 1.9 per cent through the year to the December quarter 2016, according to figures released today by the Australian Bureau of Statistics (ABS). This result equals the record low wages growth recorded in the September quarter 2016.
Those in the public sector are doing better than in the commercial sector.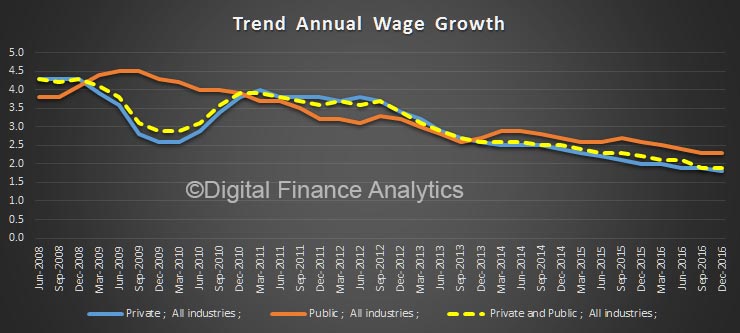 Seasonally adjusted, private sector wages rose 0.4 per cent and public sector wages grew 0.6 per cent in the December quarter 2016.
In original terms, through the year wage growth to the December quarter 2016 ranged from 1.0 per cent for mining to 2.4 per cent for health care and social assistance and education and training. Mining industry wage growth has continued to slow over the last three years.
Western Australia recorded the lowest through the year wage growth of 1.4 per cent and Tasmania the highest of 2.4 per cent.
If you correct for inflation, wages in real terms are hardly growing at all.  The trajectory is towards zero!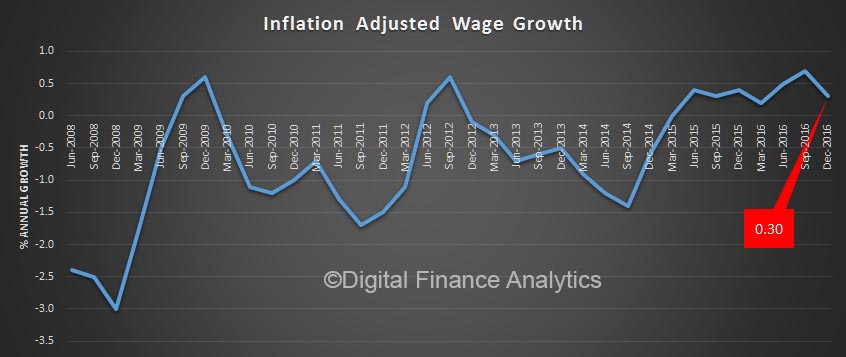 This is really bad news for those highly in debt households, who on any measure you care to select, have a massive burden thanks mainly to excessive home price growth and mortgage lending. As we have said before, this is a toxic mix, and as mortgage rates rise, as they will, more households will struggle to balance their budgets, dampening discretionary spending and having to wrestle with greater mortgage stress.  According to our research 20% of households would struggle with even a small lift in rates.