The US index has reached another high and a 5-year view highlights the strong growth, and momentum since Trump won the election last year.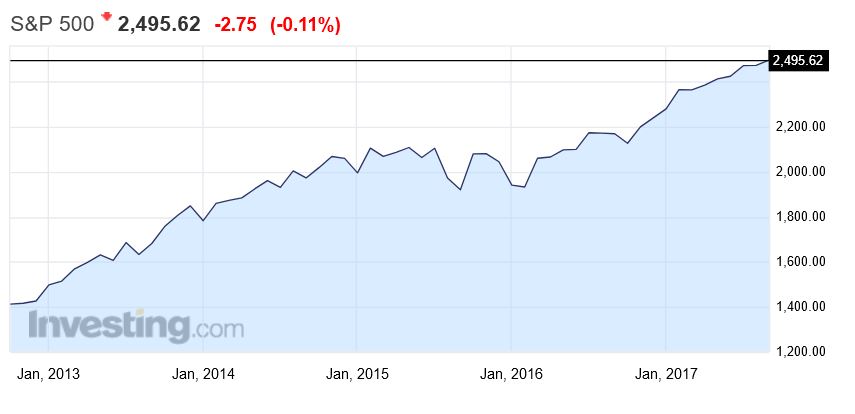 So, what are the expectations ahead? Well, according to a piece from Moody's:
An overvalued equity market and an extraordinarily low VIX index offer no assurance of impending doom for US equities. Provided that interest rates do not rocket higher, expectations of corporate earnings growth should be sufficient for the purpose of avoiding a severe equity market correction that would doubtless include the return of corporate bond yield spreads in excess of 700 bp for high yield and above 200 bp for Ba a-rated issues.

For now, the good news is that early September's Blue Chip consensus expects core profits, or pretax profits from current production, to grow by 4.4% in 2017 and by 4.5% in 2018. Moreover, earnings-sensitive securities should be able to shoulder the 2.5% 10-year Treasury yield projected for 2017's final quarter. However, the realization of a projected Q4-2018 average of 3.0% for the 10-year Treasury yield could materially reduce US share prices.

Since 1982, there have been seven episodes when the month-long average of the market value of US common stock sank by at least -10% from its then record high. Only two of the seven were not accompanied by at least a -5% drop by core profits' moving yearlong average from its then record high.

In conclusion, the rich valuation of today's US equity market very much warns of at least a -10% drop in the market value of US common stock in response to either unexpectedly high interest rates or a contraction of profits. Perhaps, the prudent investor should be braced for at least a -20% plunge in the value of a well-diversified portfolio at some point during the next 18 months.