DFA has been using its household survey to analyse the $1.5bn+ Pay Day lending market. ASIC of course has been highlighting poor compliance within the industry,  and also recently showed the range of purposes pay day borrowers might borrow for. Cash flow emergencies was the highest.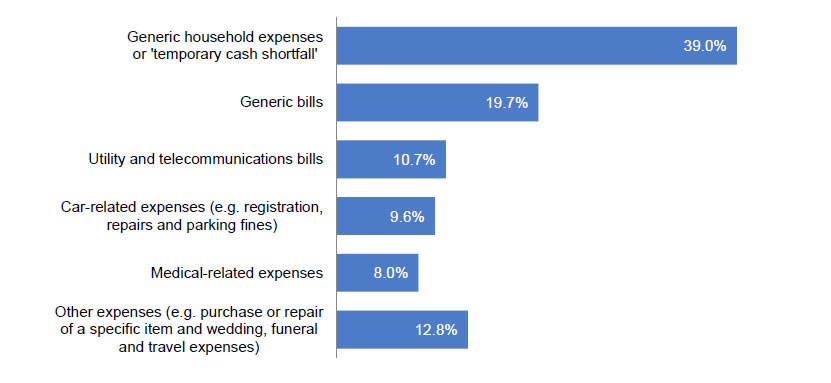 Pay day loans, or small loans, as they are properly called, are unsecured loans of up to $2,000 that must be repaid between 16 days and 1 year. Such loans are usually repaid from a bank account direct debit, or a direct deduction from pay. Since the recent changes to consumer regulation, loans of $2,000 or less to be repaid in 15 days or less have been banned.
These days many providers use on line channels to reach prospective borrowers, together with tv and radio ads. Ads for two payday lenders, MoneyPlus and MoneyMe, have recently been running on Network Ten and its youth-focused multichannels Eleven and ONE, during programs including The Simpsons, Futurama and Bob's Burgers. The MoneyPlus website, which promises fast cash for "immediate needs" within 30 minutes, among them lists "bills — electricity, gas bill or speeding, parking fines".
There are more than 100 providers of Pay Day loans operating in Australia. They are under an obligation to ensure the loan is made responsibly, and they will ask for sight of bank account statements and other documents. For recipients who receive 50% or more of their income from Centrelink, small loan repayments must not exceed 20%.
Fees are high, though there are some limits, and providers are only able to charge, a one-off establishment fee of 20% of the amount loaned, a monthly account keeping fee of 4% of the amount loaned, government fees or charges, default fees or charges and enforecment expenses. Credit providers are not allowed to charge interest on the loan.
Those these rules do not apply to loans offered by Authorised Deposit-taking Institutions (ADIs) such as banks, building societies and credit unions, or to continuing credit contracts such as credit cards. You can read more here.
Using data from our surveys, we heat mapped relative the distribution by post code. Here is the data for the Sydney region. We see there are some areas with more than 8 times the number of households compared with others, with significant concentrations in western Sydney. This includes suburbs such as Casula, Chipping Norton, Hammondville, Liverpool, Lurnea, Moorebank, Mount Pritchard and  Warwick Farm.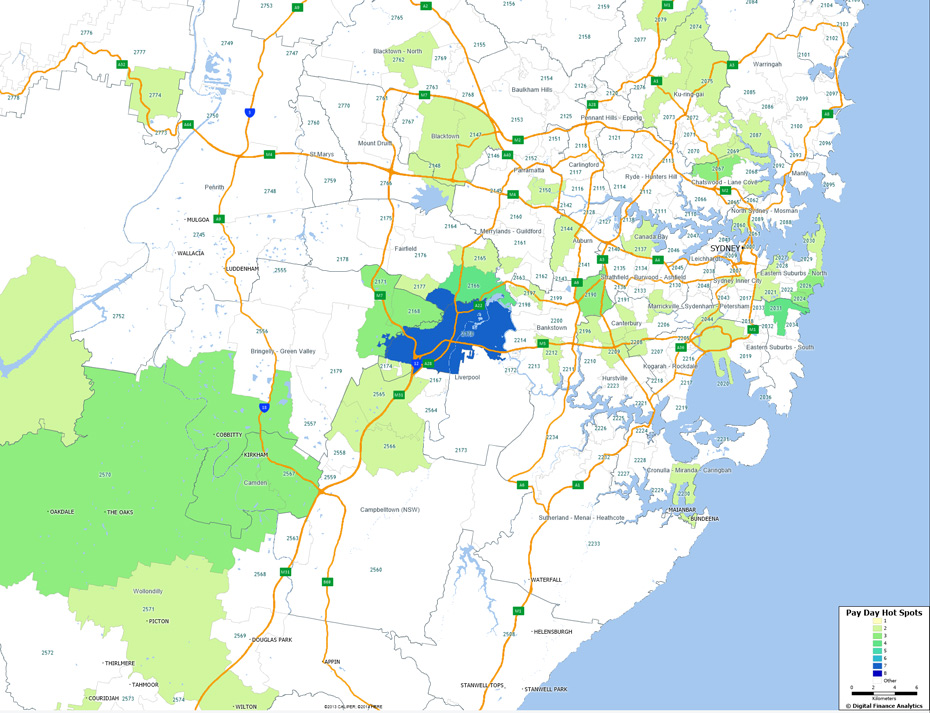 Nationally, Toowoomba in QLD (4350) had the highest penetration of pay day loans.
Finally, looking at the average age, most pay day borrowers are in their 30's and 40's, though some are older, as shown in the mapping below. We also find a high correlation between age, internet use and pay day lending.