The ABS released updated data for housing finance for February 2015 today. As a result the number of first time buyers in the data changed a little. The chart below shows the variation on a monthly basis between the latest revisions, and the earlier figures. They warn that further changes should be expected. The net impact is a fall in the count of first time buyer loans written. The total number of loans recorded does not change.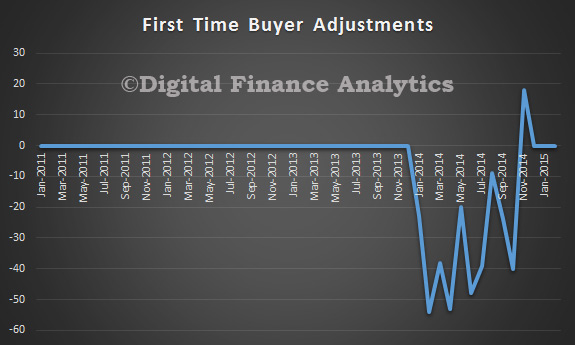 From the December 2014 issue, the ABS changed its method of estimating loans to first home buyers by adjusting for under-reporting by some lenders that only report on those buyers receiving a first home owner grant. Data on first home buyers are collected by the Australian Prudential Regulation Authority (APRA) under the Financial Sector (Collection of Data) Act 2001. The ABS and APRA continue to work with lenders to ensure that loans to all first home buyers are identified in future, regardless of whether or not buyers receive a first home owner grant.

The model developed by the ABS for lenders who are under-reporting loans to first home buyers draws on the ratio of first home buyers to total loans for those lenders reporting correctly. The new estimation  method will continue to be used in future releases. Monthly First Home Buyer Statistics are likely to be subject to future revision, as the modelled component is adjusted to reflect improved reporting by lenders.

The information paper Changes to the method of estimating loan commitments to first home buyers (cat. no. 5609.0.55.003), released on the ABS website on 4 February 2015, describes the new methodology and the extent of revisions to previously published estimates.