DFA has published its first International House Price Comparison Index. Whilst many reports include international comparisons of property prices, using data from various sources, when you dig into them, often they do not show what you think they might, because the relative scales, and start points are often out of synch, or the data is not reported on the same basis. DFA has gone back to primary sources, including Corelogic and Federal Housing Finance Agency for the US, the Reserve Bank of New Zealand, the Office of National Statistics for the UK, and the Australian Bureau of Statistics to establish a house price index on a comparable basis.
We used data from 2000 as a baseline, and produced a relative movement index from then to the end of 2013, tracking relative movements in house prices over time. The results are in looking at data from the major centres in each country but we also include Sydney as a separate data point because of discussion about the momentum there.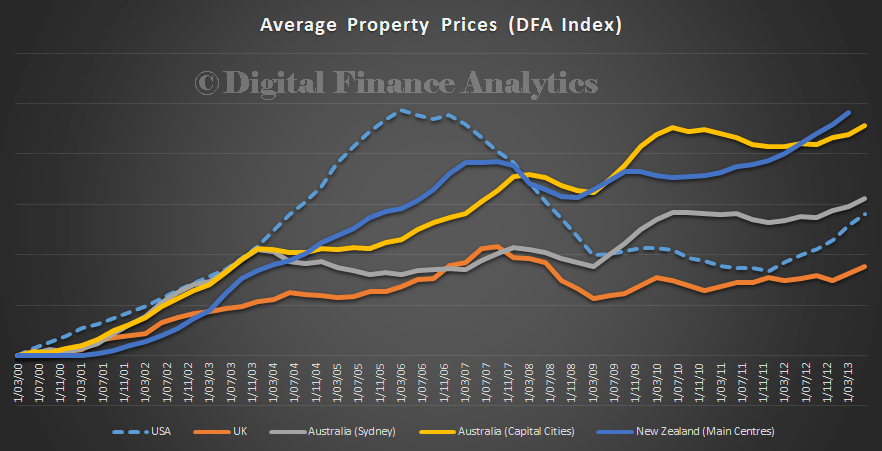 Until 2004, prices were moving up around average inflation rates, but then we see the US, running up to a peak, prior to the GFC, as markets ran hot, then falling significantly, and is now in recovery. The UK took a hit post the GFC, did not fall as fast, and is recovering now. New Zealand reveals high growth, some correction post GFC, but wins the growth prize relatively speaking, out-performing Australia – one reason why the Reserve Bank of NZ moved to limit credit last year.
Turning to Australia, we see the capital city markets growing relatively consistently, albeit with a GFC induced wobble. We also find the relative growth outside Sydney is higher than in Sydney, because the 2000 baseline there was higher. For example, the median price in Sydney was $310k in 2000, and is now $605k, wheres in Adelaide it was $141k (2000) and is now $395k. Hobart was $104k (2000) and is now $345k and Darwin was $161k (2000) and is now $565k. We can also look at the relative annualised growth rates over the trend period. Darwin is the winner, followed by Hobart and Perth.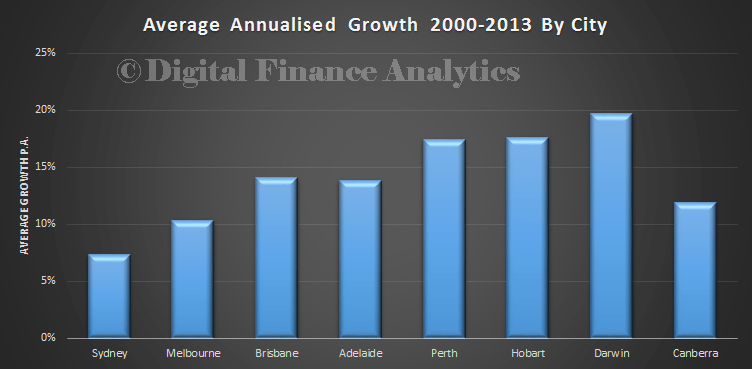 So, two observations, first, by international standards, property price growth in Australia is at the high end as I discussed recently, and second, the relative growth has been a lot stronger away from Sydney, yet much of the recent talk has been about a bubble IN Sydney! We see again the impact of the structurally high property prices thanks to poor policy, easy credit and lack of supply. We have a national property problem, not a local Sydney one!
We plan to update our index regularly as new data is published.