The results from the DFA 2013 Channel Preference Research Program are just in. This program captures data from our 26,000 households over 12 months on their current and ideal channel preferences. This is segmented analysis, and we are already finding some strong themes emerging as we complete the data dive. The final report is some weeks away, but here is our initial take on what we are seeing.
First, we see that households are on average more connected than ever. The Young are connected for more than 100 hours each week, up 10% on the 2011 baseline, whereas Self-Funded Retirees have doubled their time online, to about 30 hours a week. We know what proportion of time is spend in social media sites (up), online media (well up) and other web sites (down).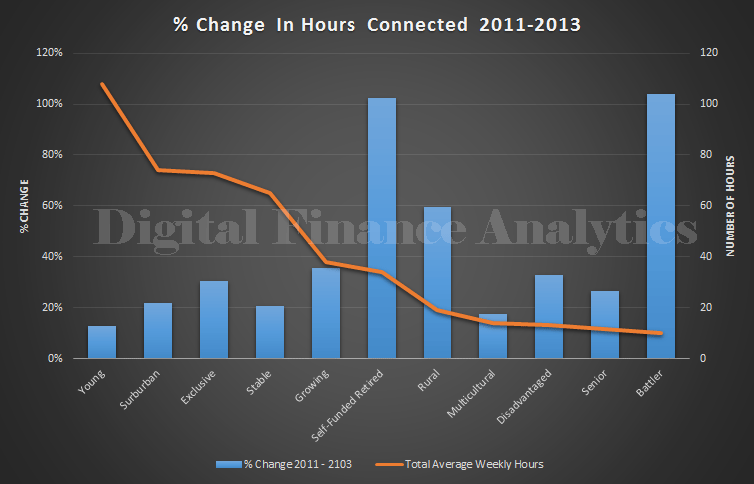 We also looked at household preferences with respect to bank channels. Many segments are now rapidly moving online, and the young are leading the way. The way we show this is using the DFA proprietary Channel Preference Radar. We look at sales and service preferences by channel, and map these against the average. Our take-away is that bank branches are now obsolete for some of the most online and profitable segments. It is a challenge for banks and other financial institutions because the branch will increasingly become the ghetto of less profitable and older Australians.  This same digital migration is also having an impact in Mortgage Brokers and Financial Advisers. It seems to us that households are voting with their devices (mostly smart phones and tablets) and are way ahead of most of the industry in terms of migration. There are profound economic implications for the banks, and a potential impact on the high street, and on the customers of these financial institutions.